THE HAKKENDEN
The Legend of the Dog Warriors

NOTE: THIS PAGE CONTAINS SPOILERS TO THE HAKKENDEN ANIME. VIEW ONLY AT YOUR OWN RISK TO SPOILING THE GREAT STORY.
Update: 08.15.2000: Sumimasen, my Sound Files are being funny on me. I am trying to work on the problem. However, I am pleased to announce lyrics to Mayou no Fuinade have been romanjinized, and a working Enlgish tanslation will soon follow. Again, I apologize for the problems with the sound files.
The Hakkenden is an ancient samurai tale, written by japanese author Kyoukutei Bakin in the late nineteenth century. He was one of the first japanese novelists, and the Nansou Satomi Hakkenden is his acclaimed work, having been translated into anime, manga and many books. Sadly, only the anime has been made into english format.
This page covers both the anime and the novels. Differences (there are lots) between the two will be noted.
Want some info or answers about the Hakkenden? E-Mail me if you have any comments, questions, suggestions, or donations (pictures, text files, etc.) for this page.
Many thanks to Sonobe Souan of the Hakkenden Hakuryu-Tei for many e-mails of info!
Please Sign My Guestbook! It's at the bottom of this Page!
---
---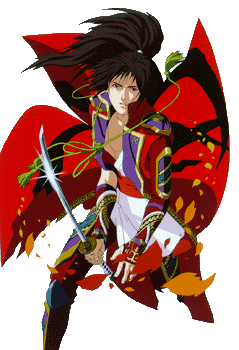 About the Anime
The Hakkenden is an ancient samurai drama; the story of eight young warriors born into a destined fate to save their mother's clan. They each must struggle with the perils of life and defeat overwhelming spiritual and physical obstacles until they realize their place in the world.
If you're expecting blood and gore beyond Buddha's reasoning, don't watch this series. Yeah, it's got lost heads, but if you're one of those hardcore violence-anime fans, you'll probably find this pretty boring.
There's also the problem of a low budget, leading to unable monkeys to drawing and animating some episodes. Beware, but realize they're just as important as the good ones.
You are the bead to be reincarnated on the rosary.
Note: When signing my Guestbook, please put [H] in front of your coments. Arigatou.
This page is created and maintained by Dré. < :3( )~~
All Hakkenden images and items are © to AIC/Pioneer entertainment and all respected companies. H4>