Aboshi Samojirou
---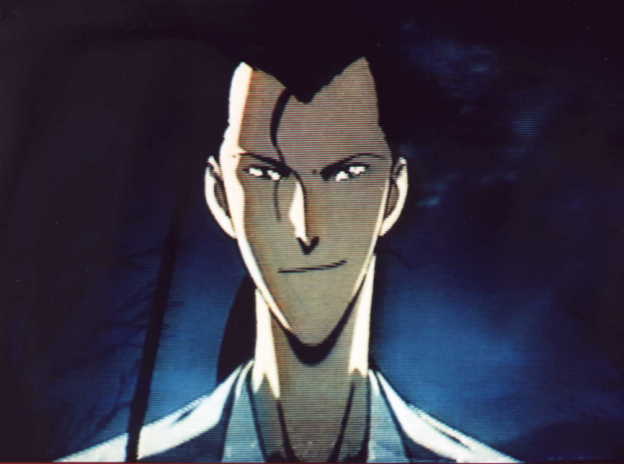 Hair: Brown

Eyes: Brown / Red

Height: Around 6'4.

Origins: Takita Castle, Awa province.

HISTORY
The history for Aboshi Samojirou in the anime differs heavily than that of the novels. I will discuss him from the anime first.
Yamashita Sakuzaemon Sadakane was the top accountant and advisor to Jin-yo Mitsuhiro, one of the lords of Awa. He killed Jin-yo and took over territory through use of his beutiful and bad concubine Tamazusa.
However, when Satomi Yoshizane and Kanamari Hachirou led a revolt against Sadakane for excessive mistreatment, he was killed by Hachirou and his son Daiasuke. In the anime, he is ressurected as a spirit by the curse to torment the Dog Warriors.
He took the name of Aboshi Samojirou, and plotted his revenge against Kanamari. He plotted the switching of the Murasame sword of Inuzuka Shino. Later, he takes Inuyama Hamaji to Muratsuka mountain to kill her. His plans are stopped short when Inuyama Dousetsu rescues her and Aboshi fights the Dog Warrior. Dousetsu fells Hamaji due to Aboshi's magic on June 19.
Aboshi also takes the place of the wizard Myouchin during the Satomi-Hikita Wars. He's basically the bane of the Dog Warriors throughout the anime, taking the place of many other opponents. He is killed by the Dog Warriors when Tamazusa lifts the curse.
In the novels, Aboshi is a simple playboy to the curse. He was one of the secrataries to Uesugi Ougigayatsu Sadamasa, but was laid off due to trouble. He became a ronin, then came to Ohtsuka where he became a teacher. Kamezasa thought him a better suitor for Inuyama Hamaji, rather than Inuzuka Shino. She promised Aboshi Hamaji, but the jindai Higami Kyrouku saw and fell in love with Hamji as well.
Since the jindai is a retainer to the lord, Kamezasa then thinks Kyrouku a better suitor and promises her to him. Shino at this time has left for Koga with a false Murasame.
When the wedding ceremony for Hamaji and the jindai occurs, Samojirou, unaware of this, gets angry. He sees Hamaji as his bride and feels betrayed. He steals Hamaji away on June 19. He then kills Hamaji, but meets his demise by the hands of an angry Inuyama Dousetsu.
PERSONALITY
Charismatically wicked and evil. Great laugh and obviously likes his job tormenting the Hakkenshi. Much of his personality was evil since Sadakane. He hated the Satomi and wanted his posistion back in Awa. He acts like he's got a few srews loose, though in fact he's a diabolical genius. In the novels, much of what he does is driven by his love for Hamaji.
TRAITS
Evil plots are his specialty. Magical abilities thanks to being a spirit and also knows how to really piss off the Dog Warriors. Amazing vitality to take the wounds he does and still talk fluently about his selfish ambitions. Seems quite a knowledged person as well.
APPEARENCE
We first meet Aboshi in chapter 18 of the novels. Dark Music of the Gods is his entrance in the anime.
WEAPONS
He uses a katana as a human. As a spirit, he uses a sharp and deadly whip-like twig.
FIGHTING PROWESS
Skilled as human. We don't see him fight much, but he's got to be strong in order to cut through people like in episode 11. Enhanced as a spirit, but in the end fails against Dousetsu. In the anime is seemingly unbeatable until the curse is lifted and he can't tap into its power.
SEIYUU
Hirotaka Suzouki